I also posted this at Madbean, but thought I would also put it here for the guys who don't frequent his forum.
Hey Guys,
I've shared a PCB on OSH park for my 'Open Range' booster PCB.
See here:
https://www.oshpark.com/shared_projects/SYXHnoDu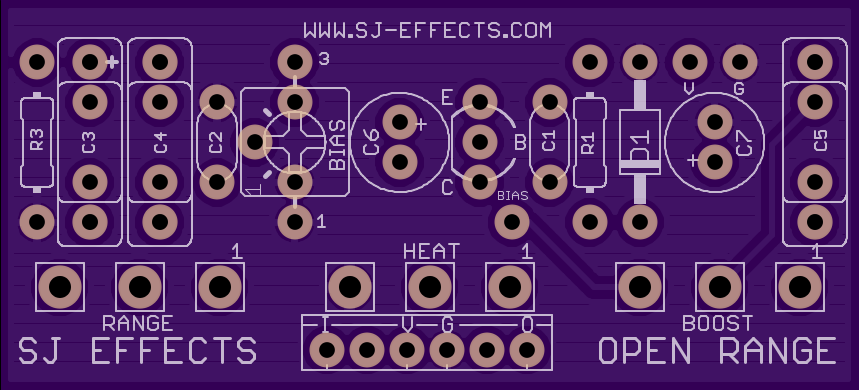 Based on the Rangemaster, you can build a variety of Rangemaster based circuits (Naga Viper, Red Rooster etc.)
I have successfully built a Naga using the PCB. It's a great circuit and works
really
well with JFET overdrives.
See schematic (including notes) attached below.
PCB/General notes:
* I=Input, O=Output, V=+9V in, G = GND.
* Make sure to note your transistor pinout! (the silkscreen shows orientation for 2N3904. 2N2222A is mounted 180 degrees to silk screen).
* 10mm and 5mm spacing used on caps so you can use a variety of cap types.
* Bias pad allows you to measure bias voltage to collector if using a bias trim pot (D*A*M recommend biasing Germanium. versions to 6.66V)
* +V and GND pads are also at top of the PCB if using top mounted DC in jack.
Please note:
For non commercial use only!

The PCB is verified; I have built one up myself.

If you want -9V operation, not to mention the support and backup when building a Rangemaster clone, then purchase Madbean's Rangemaster PCB!