Yes, as wmarshguitarist showed, I mount a miniature 3PDT toggle switch between the bottom of the board and the top of the enclosure, just below the clipping toggle switch, with the toggle bat coming out through the left side of the enclosure. The switch must be mounted so that its most narrow dimension fits into that space. Consequently, the toggle bat moves vertically, in the same plane of motion as the footswitches. See below pics for details. This should be drilled & fitted
before
the PCB is soldered to the pot legs and toggle switch lugs, to be sure you have enough room. It's important to drill that side hole such that the switch body is flush against the inside of the top surface of the enclosure, to use as little of that vertical space as possible, so measure & drill carefully! I then cover the solder side of the board in that immediate area with a piece of electrical tape, even though the side of the 3PDT toggle body is plastic with very little exposed metal. Better to be cautious, I figure.
One other thing--because the side of the enclosure is not perfectly perpendicular to the top, when you tighten up the mounting nut on the 3PDT toggle switch, it lifts the back edge of the switch body up a bit and eats up more of the precious vertical space that you have there. To keep this from happening, I take a small washer (generally one of the washers from one of the two top-mounted toggles, since I don't use them) and cut it in half, and then wedge it in between the 3PDT switch body and the inside of the enclosure on the side of the threaded bushing facing away from the enclosure top. That way, when you tighten the mounting nut, the piece of washer forces the switch body to lie flat against the inside of the enclosure top and not lift up at the rear.
May sound a bit complicated, but I've done it many times now, and this mounting method works very well. And it preserves the battery compartment.
Here are the photos I mentioned: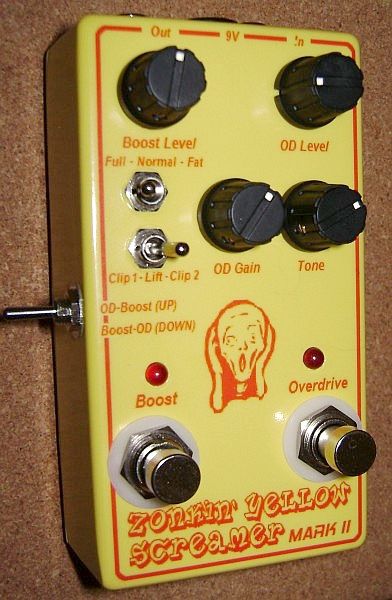 _________________
"My favorite programming language is SOLDER" - Bob Pease (RIP)
My Website
*
My Musical Gear
* My DIY Pedals:
Pg.1
-
Pg.2